Leading Through Treacherous Terrain Requires a Conscious Approach 
People Space recently invited Annette to share her experience on the rapidly changing world of work and how leading with a Conscious Approach can ensure success. Read here or see the full blog below.
In today's high performing organisations, employees want a leader they can relate to, who knows them and supports them through the toughest of times. But how? 
We continue to live in challenging times; I often look back over the last 3 years and think 'wow', we could never have anticipated the degree of change that we would all have to deal with; the emotional roller coaster of the pandemic, the economic challenges, rapid technological change and the enhanced use of AI (Artificial Intelligence), and the unsettled global political environment that we live in. That is a lot for us to deal with on both a personal and professional basis. We have changed so much in the way we live and work.  
Businesses and markets have also been challenged, so there have been pressures on all fronts. Tough for us to deal with and it looks like this is the way it is going to be now; with us all having to adapt and change as needed on an ongoing basis.  
We humans love as much certainty as we can get, this helps us feel secure and in control. We also want to belong, add value, be valued and to have a connection to the people and business that we work for and with. We also all want a connection to be part of a High Performing Organisation (HPO); none of this is possible without the right leadership in place. 
So, the group of people at work that I really want to focus on today is our leaders; pre pandemic the world was more settled, leaders tended to have progressed through their careers, learned from those before them and were quite stable in their leadership style and approach.  
And now the world has dramatically changed, and our leaders are no longer equipped or prepared for the changes that have taken place; they have had to 'adapt on a dime,' whilst dealing with their own personal and professional challenges.  
Historically the view was that a leaders' team would adapt to their leader's personal style and approach, however we now have 5 generations at work, with hugely different needs, communication styles, expectations, and ways of working. Our leaders need to be able to identify these, relate to and adapt to them and communicate to all – this is a challenge, particularly for leaders who are more set in their ways and do not see the need (or are concerned that they lack the ability) to change. One size (or approach) no longer fits all.  
The demands on our leaders have changed; the question now is how we can support them and develop the skills that they need; and start to equip our future leaders. Equally we do not want to lose all our leaders, so developing them is also important to support their retention.  
The World Economic Forum has identified on 2 separate occasions (2019 and 2020) that  
emotional intelligence is the single most important skill that business leaders will need to survive and thrive during the Fourth Industrial Revolution. 
Research from the Niagara Institute has concluded that Emotional Intelligence accounts for nearly 90% of what sets high performers apart from peers with similar technical skills and knowledge. 
The good news is that emotional intelligence can be developed and can continue to be developed through our working lives.  
I now focus with organisations on developing the emotional intelligence levels of their current and future leaders, and passionately believe it is a game changer.  
Employees now need a leader that does not 'tell them what to do and how,' rather they need a leader that they can relate to, who knows them and supports them, identify how both individually and as a team, they can optimise their performance and contribution for the benefit of business; whilst also being supported personally and professionally. 
Creating a connection with individual employees and within teams is key. 
To achieve this, research shows that leaders need to incorporate the following into their approach, I call this 'Conscious Leadership.'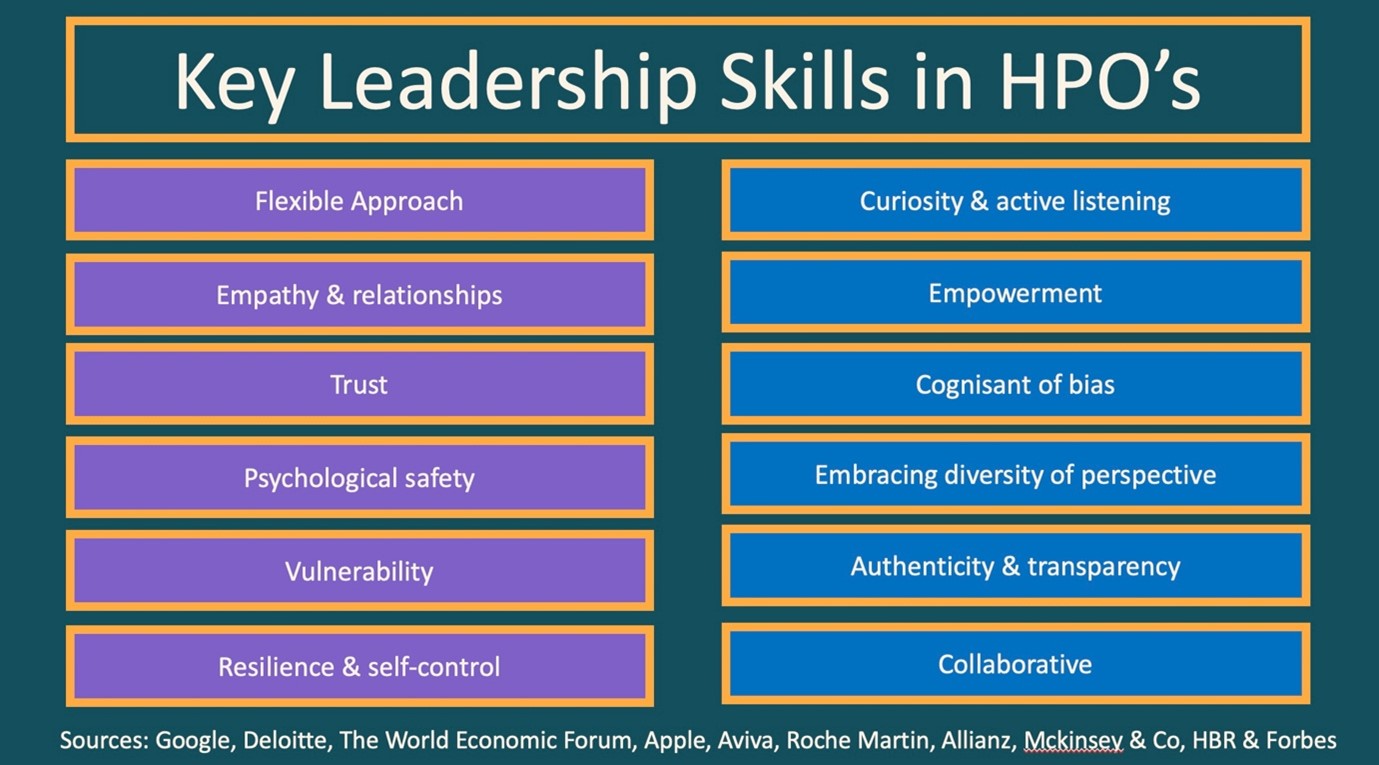 This can be tough to do if leaders have not used these skills previously and have no idea of how to (or recognise the need for) the development of these.
I recommend starting with upskilling your leaders on the business case for 'Conscious Leadership.' And then focus on identifying your employees 'Moments that Matter;' through facilitated sessions, create a safe space where your employees can share with you what they need from their leaders, and from the 'contract' that they have with you as their employer. Working through the employee life cycle can help to identify these moments; you can then put them into groupings with the supporting stories that bring them to life.
In these sessions 'My Manager and Leader' always comes up as a key enabler and is identified as integral to enhanced performance, engagement, and retention.
Individual leaders can do this with their teams, or the overall business can do this in facilitated groups; my recommendation would be to do it using an independent facilitator who can create the safe space for the discussion as the insights you get are much richer. This in turn helps an individual leader and organisation refresh their Employee Value Proposition (EVP) to reflect the changing needs of their people; also, the information gained illustrates why emotional intelligence in our leaders today is so key.
Leaders can also start to look at their own levels of emotional intelligence. They can complete an individual Emotional Capital report (ECR) to understand their current emotional intelligence profile, and have a coaching session to talk through their individual strengths and development areas.  
A leader can also take the very first step themselves to tap into their Emotional Intelligence – by stepping back from the doing, creating some space to really think and listen, and then stepping into being a 'Conscious Leader' by using the skills identified above.